Google Analytics
We saw significant improvements in all areas in the year-on-year comparison except bounce rate (An area we're still working on).
2,840 clicks in the last 6 months compared to 1,910 in the previous 6 months.
177,000 impressions in the last 6 months compared to 85,500 in the previous 6 months.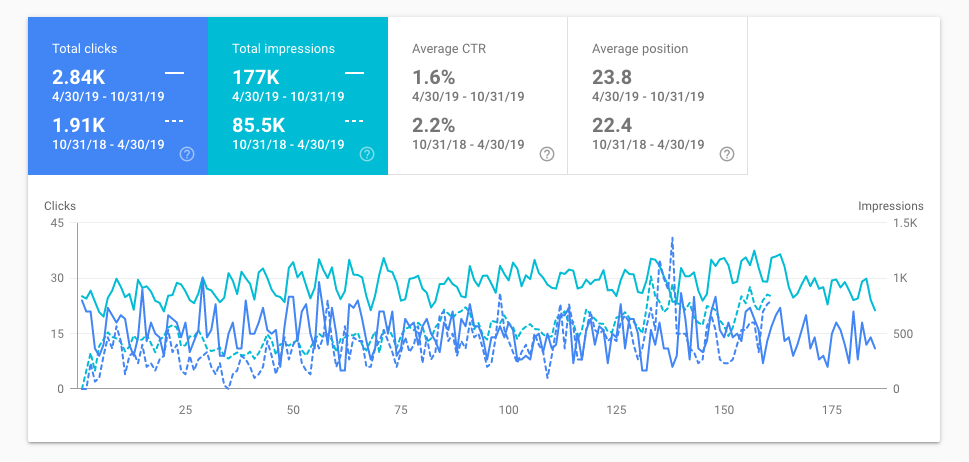 Project Details
Client had a large website with mixed performance. It performed well for a select few search terms, but many blog posts were not ranking well and traffic was for a narrow subject area.
Client: Serena Bolton
Category: SEO Strategy, Re-structure and Diversification of content, Optimisation of under-performing content.
Approach: Consultancy & coaching based, with Serena's P.A. undertaking a significant portion of the work.
Website: https://serenabolton.com/
The Backstory
Serena is a talented and well established photographer in London. She had a huge blog with several hundred posts, most of which we underperforming. My research showing this was a result of thin content. Many of the posts had just a few photos and very little text. The vast majority were optimised for the same term and I suspected the possibility of a panda penalty.
Action
Working with Serena's awesome PA Lisa, we identified older and duplicate content and this was removed.
We then identified topically relevant areas that Serena could add to her repertoire of services. She already offered a rich variety of portraiture services, but these services were not described in a way that matched search intent.
A plan was put together to add diversification on the remaining posts to ensure the right potential clients found content that would be helpful to them.
Project Duration
We started on this project in April 2019, and it's still in progress now (November). We're at the 7 month mark and have seen improvements in both impressions and clicks from organic traffic.