There are two distinct parts to SEO optimisation; The initial research, strategy and technical implementation on the website, and recurring monthly SEO that is more focussed on areas like ongoing keyword research for blogging, competitor analysis, content gap analysis and link building.
We offer one package for each of these areas that is personalised to you.
We also offer a few different smaller services in our shop covering areas like site audits, Google tools set-up, and speed optimisation.
We offer one fully featured package for the initial part of SEO that is designed around your needs to help you get the best possible results. Google's official advice is that it takes between 4-12 months to see the impact of SEO work, so our pro package runs for a full 12 months.
We complete 85% of the work as soon as possible though. You are in control of when work is completed as you can book your coaching calls anytime in our online appointment scheduler. Want to get everything done in a week? Go ahead and book in your calls. Lets get it done, and start getting you results! Prefer to spread it out? That's fine to. You're in control of pace.
Twelve Months of Support and Monitoring
Keyword Research and Competitor Analysis Tools
Strategy Consultation and Keyword Research
Website and Home Page Optimised
Blog Coaching and Optimisation
Your personalised client portal area will contain information about your project, along with guides and tutorial videos on Google tools, link building and blogging.
This area is designed to complement the technical SEO work we'll be completing for you, and help you learn what monthly SEO tasks you should be doing on an ongoing basis.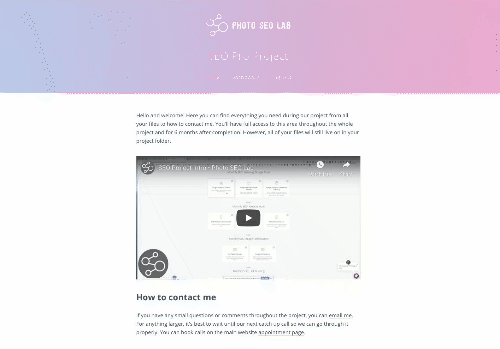 SEO Service Capacity and Client Experience
We are a boutique-style SEO agency. This means that whilst we have specialist SEO contractors who will undertake research and data consolidation, you'll be working directly with Karen.
To provide the best possible levels of service we have a limited amount of space for clients, with a maximum of 30 spaces available. At peak times of the year, we often have a 2-3 week wait time. We start the research and site analysis process as soon as you're booked in.
Check out the online appointments page to see our latest availability.
Payments can be spread out over 3 or 6 months ($500 or $250 USD per month) or paid in full in a range of currencies.
Delivery of the project is aligned with the payment plan.
Exclusive Monthly SEO Package
• New for 2020 •
Our monthly SEO Packages are designed for 'already optimised' websites and are exclusively available to previous clients who have previously booked one of our initial SEO packages. (e.g. SEO Kickstart or SEO Pro).
With our monthly SEO package, we offer ongoing optimisation work for both new and existing content.
The monthly SEO package focus is on areas like keyword research, competitor analysis, content gap analysis and link building.
Exact features will vary and will be based around your needs.
Weekly SEO Audit Report
-
Discounted coaching call rates
Priority Support
Monthly Maintenance (Plugin Updates)
Client Portal Area With SEO Tutorials
FB Support Group
Monthly Rolling Contract
(Cancel Anytime)
-
Weekly SEO Audit Report
Keyword Tracking
Discounted coaching call rates
Priority Support
Monthly Maintenance (Plugin Updates)
Client Portal Area With SEO Tutorials
FB Support Group
Monthly Rolling Contract
(Cancel Anytime)
Up to 1hr of Audit Issues Fixed/Tech SEO/Consultancy
Weekly Website SEO Audit
Keyword Tracking
Discounted coaching call rates
Priority Support
Monthly Maintenance (Plugin Updates)
Client Portal Area With SEO Tutorials
FB Support Group
Monthly Rolling Contract
(Cancel Anytime)
Up to 3hrs of Audit Issues Fixed/Tech SEO/Consultancy
Monthly SEO Package Capacity
• New for 2020 •
Auditor (Max 100 Spaces)
10%
Optimiser (Max 25 Spaces)
16%
Creator (Max 5 Spaces)
75%