There are two distinct parts to SEO optimisation; The initial research, strategy and technical implementation on the website, and recurring monthly SEO that is more focussed on areas like ongoing keyword research for blogging, competitor analysis, content gap analysis and link building.
We offer one package for each of these areas that is personalised to you.
We also offer a few different smaller services in our shop covering areas like site audits, Google tools set-up, and speed optimisation.
We offer one fully featured package for the initial part of SEO that is designed around your needs to help you get the best possible results. Google's official advice is that it takes between 4-12 months to see the impact of SEO work, so our pro package runs for a full 12 months.
We complete 85% of the work as soon as possible though. You are in control of when work is completed as you can book your coaching calls anytime in our online appointment scheduler. Want to get everything done in a week? Go ahead and book in your calls. Lets get it done, and start getting you results! Prefer to spread it out? That's fine to. You're in control of pace.
Approx 85% of the SEO work will be completed in the first 6 months, but we monitor site performance regularly to ensure things are moving in the right direction.
We want you to see great results, and to get a return on your investment with us, so we'll be making sure your visitor numbers are growing and giving you ongoing support in areas like blogging and link building.
As a starting point, we'll either set you up with Google Search Console, Google Analytics and Google My Business, or, if you already have these we'll go through them and check everything is connected properly.
Over the course of your 12-month project you'll receive coaching and support so that you learn to read and understand the data, and more importantly, know what action you need to take.
We love empowering business owners like you, and we want to put you in control of your success.
We'll help install keyword research and competitor analysis tools and show you how to use them.
We'll also undertake extensive keyword research for you, as well and checking out your competitors to gather the information we can use as part of your personalised strategy.
Your package will feature 6 hours of coaching calls.
During these calls, we'll chat strategy, and optimise various parts of your website including the core structure, homepage, and a blog post.
You don't need to do any of the work as I'll be working on your site.
The benefit of a live call is that, as well as you learning best practice we can chat about your ideal client and your aims, and these can be built into the optimised copy on your website, giving you a better chance of being found by your ideal client.
We research your subject area and come up with collections of topically relevant keywords that will help get you found.
We analyse the competition and look for opportunities to create more depth to your content to help you rank higher.
We'll optimise the core settings of your site to be the best fit for the aims of your website, in addition to indepth optimisation on your homepage.
We'll optimise the following for up to 20 pages:
Titles
Meta Descriptions
Headings and sub headings
internal links
alt text
We'll optimise the speed of your home page to ensure it loads as fast as possible.
You'll never have to worry about what to write again!
We'll be spending one of your coaching calls optimising a blog post in detail, including things like title, meta description, header tags, body copy, internal links and alt text.
We'll look at what your clients are actually searching for, and what Google perceives as good quality content.
Whilst we do not have a set word count target, we recommend that blogs are in-depth articles that add value to your potential clients. We will look at your competitors and ensures are optimised to perform better.
Then we can work out the steps to take to get your photography in front of more of your ideal client.
Don't know what structured data is?
Well, by the end of your project, you'll be an expert.
In simple terms, it helps Google deliver more visual results that provide better user experience, and that can only be a good thing.
Backlinks are really important, so your coaching will cover exactly what these are and how to get them.
We'll be building some links together so you can learn about the different types of links and why they're important.
We complete a full, in-depth content audit at the start of your project to look for optimisation opportunities.
Your personalised client portal area will contain information about your project, along with guides and tutorial videos on Google tools, link building and blogging.
This area is designed to complement the technical SEO work we'll be completing for you, and help you learn what monthly SEO tasks you should be doing on an ongoing basis.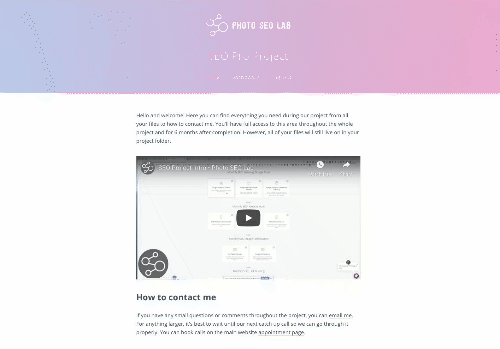 SEO Service Capacity and Client Experience
We are a boutique-style SEO agency. This means that whilst we have specialist SEO contractors who will undertake research and data consolidation, you'll be working directly with Karen.
To provide the best possible levels of service we have a limited amount of space for clients, with a maximum of 30 spaces available. At peak times of the year, we often have a 2-3 week wait time. We start the research and site analysis process as soon as you're booked in.
Check out the online appointments page to see our latest availability.
Payments can be spread out over 2, 3, 4, or 6 months or paid in full in a range of currencies over in the shop.
Delivery of the project is aligned with the payment plan.
Please note, the SEO Pro Package rate will be increasing to $2250 on September 1st 2020. I've delayed this increase (Which was initially planned for April) due to the impact of the pandemic on the wedding and photography industries.