Google refers to the filename as well as the alt text, so it's important that it makes sense and contains readable information.
There are a few important guidelines for how to name images for SEO though:
The filenames should contain dashes between words (not underscores)
The words should be relevant to the photo
Filenames should be as short as possible and not overly lengthy
Do not keyword stuff filenames
Keep filenames unique by using numericals after the names, e.g. rustic-wedding-barn-wedding-1, rustic-wedding-barn-2.
It's fine for your filenames to be similar on the page, but I'd recommend making them as unique and relevant as possible.
You may also want to improve the targetting of your ideal client by including descriptive words that mention styling and wedding type.
Please do this sparingly. It's a delicate balance between being helpful and coming across as spammy, so it's best to err on the side of caution and ask yourself: Will this be useful to a potential client?
How to Batch Rename Files
I use Adobe Bridge to rename my files after exporting them from Adobe Lightroom.
I find this the easiest and fastest way to be able to change the filename on specific sections.
Select all files
Go to 'tools' on the menu along the top
Select 'Batch Rename'
On the next screen, select an alternative name
 Ensure each word or number is separated with a dash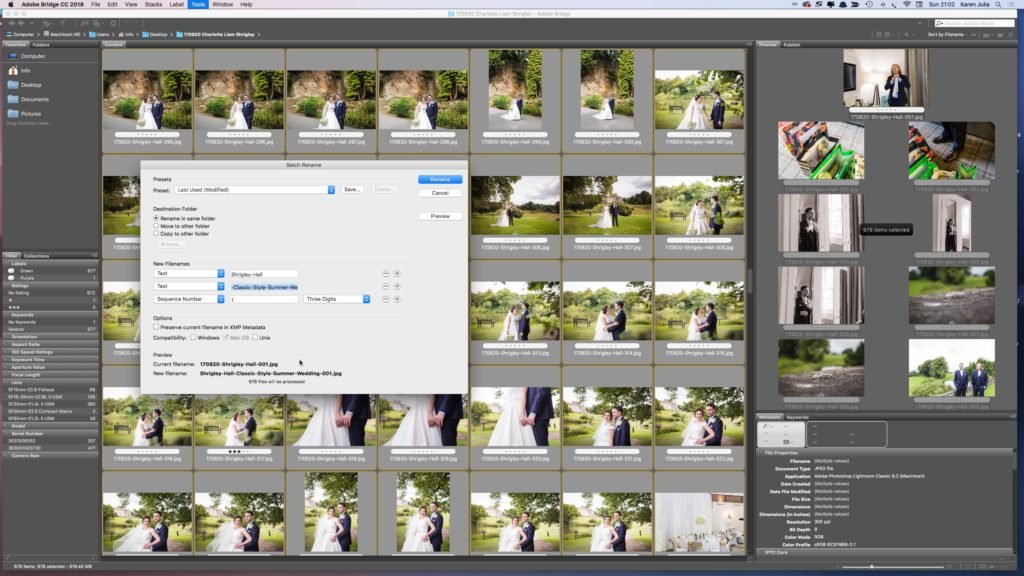 Current filename: 170820-Shrigley-Hall-001
New filename: Shrigley-Hall-Classic-Style-Summer-Wedding-001
In the example above, the first filename contains a number at the start, whereas the improved filename contains only descriptive words and a sequential number at the end.
Wedding Photographer Filename Tips
As a wedding photographer, I tend to use the venue name in the file name.
If the wedding has two locations, I'll use the first location in the first selection of images from that location, and when the collection of photos moves to the reception venue, I use the name of the reception venue in the filename.
Newborn & Portrait Photographer Filename Tips
It can be trickier to work out how to name images for SEO for newborn and portrait photos, especially if you do not want to namedrop the locations you use.
I'd highly recommend NOT using names in any of your filenames.
I've seen many instances where using baby names in filenames has resulted in photos showing for competitor photographers with the same name as the baby.
It can be tricky for the bot to understand the context around name use.
Instead, it's best to focus on things like styling details, colours, and words that describe the photo contents. This could include mentioning accessories or features of the backdrop.
How to Name Images for SEO: Further Reading
Want to read more about image SEO? Head over to our main SEO for images page where you can find lots of information, tips and advice.