2020 Has been a year of change that none of us expected. The wedding industry in the UK was pretty much a write off in 2020. I'm writing this guide in September, which is the final month of the peak April to September wedding season… and for the first time in 15 years, I have not shot a single wedding this year so far.
As we look to the future for our business planning, making the most out of any industry change requires positioning our brands and our businesses in a way that can accommodate those changes. But – how do we do that when we don't know what the future holds?
Over the last couple of weeks, I've been undertaking research in relation to my wedding photography business to learn about trend changes in the wedding industry so that I can evolve my brand to be a better fit for 2021. I will be sharing this research with you all, and showing you how to undertake your own research.
Keyword Research
Researching phrases and topics that are popular and have lots of search volume is normally a core part of any SEO project. When big industry changes take place however, it can take this software a bit of time to catch up. For that reason, it's best to not rely on keyword research software exclusively. (You can learn more about my favourite keyword research tools over on: keyword research tools for photographers.)
Google Trends
Google Trends is an awesome bit of software that shows changing trends over time. We can go back as far as 2004, so it's great for seeing historical changes and evolving trends, as well as what's trending now.
A key feature of recent restrictions is a limitation of guest numbers, so I started my wedding photography trends research by inputting search terms to describe small weddings. I wanted to see what was popular and whether any of these terms had experienced changes this year.
The trends search starts in the USA as this is a larger market and from experience has an influence on future UK trends.
The data above goes back to 2004. I wanted to start by looking at the bigger picture of trends over time.
See that big spike on the green 'elopements' line at the end there?
As we can see – that spike was in April, which was the height of the global pandemic.
We can see that at that point in April, elopements overtook small weddings in search volume.
There's also been growth in the more niche search terms of 'micro weddings' and 'intimate weddings'.
Let's look at those two in isolation: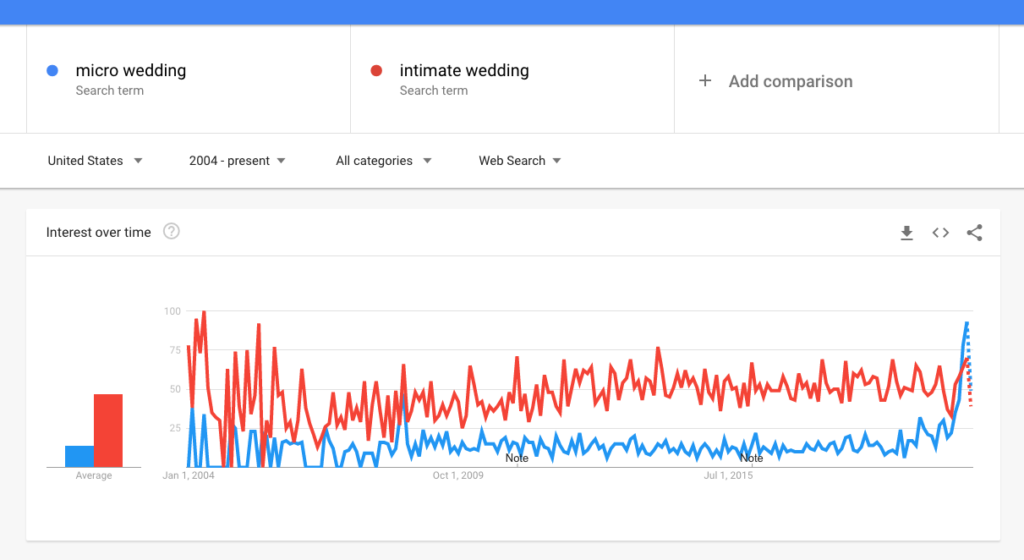 We can see that the term 'micro wedding' has shot right up and overtaken the previously more popular 'intimate wedding' term.
Let's take a closer look from a more recent date: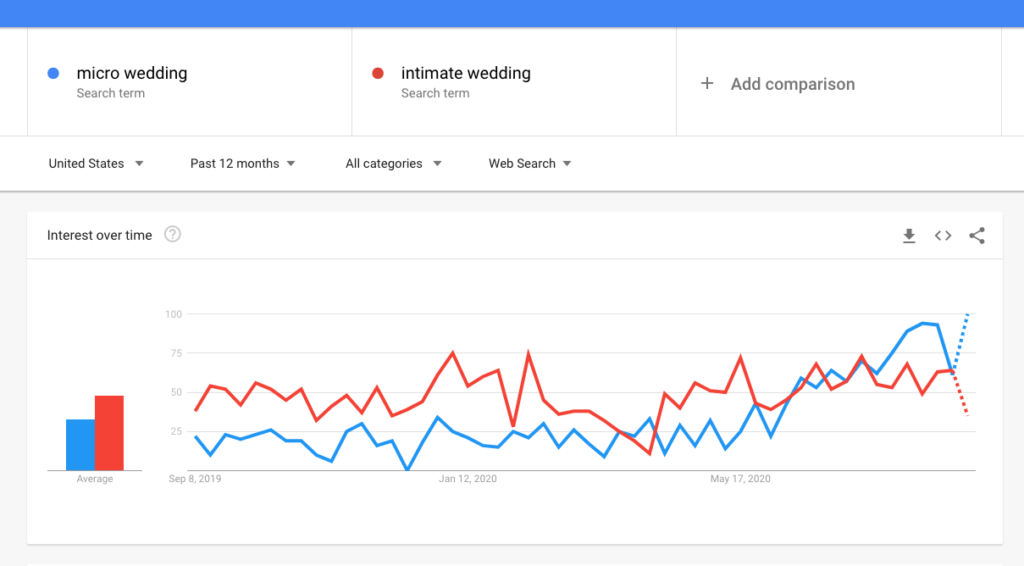 Looking at the last 12 months of these two terms in the USA, we can see growth in both in April at the start of the pandemic, with 'micro wedding' having roughly three times as many searches in August, as people perhaps realise that adapting their wedding rather than continuing to reschedule may be a better solution.
The terms 'small wedding' and 'elopement' still have higher search volume, but with the growth in 'micro wedding,' it would be prudent to start thinking about what services for micro weddings would look like for your business, and creating content, wedding packages and pricing to accommodate this emerging trend.
UK Wedding Trends
What does the data look like for the UK, and is it the same in Scotland as well as England?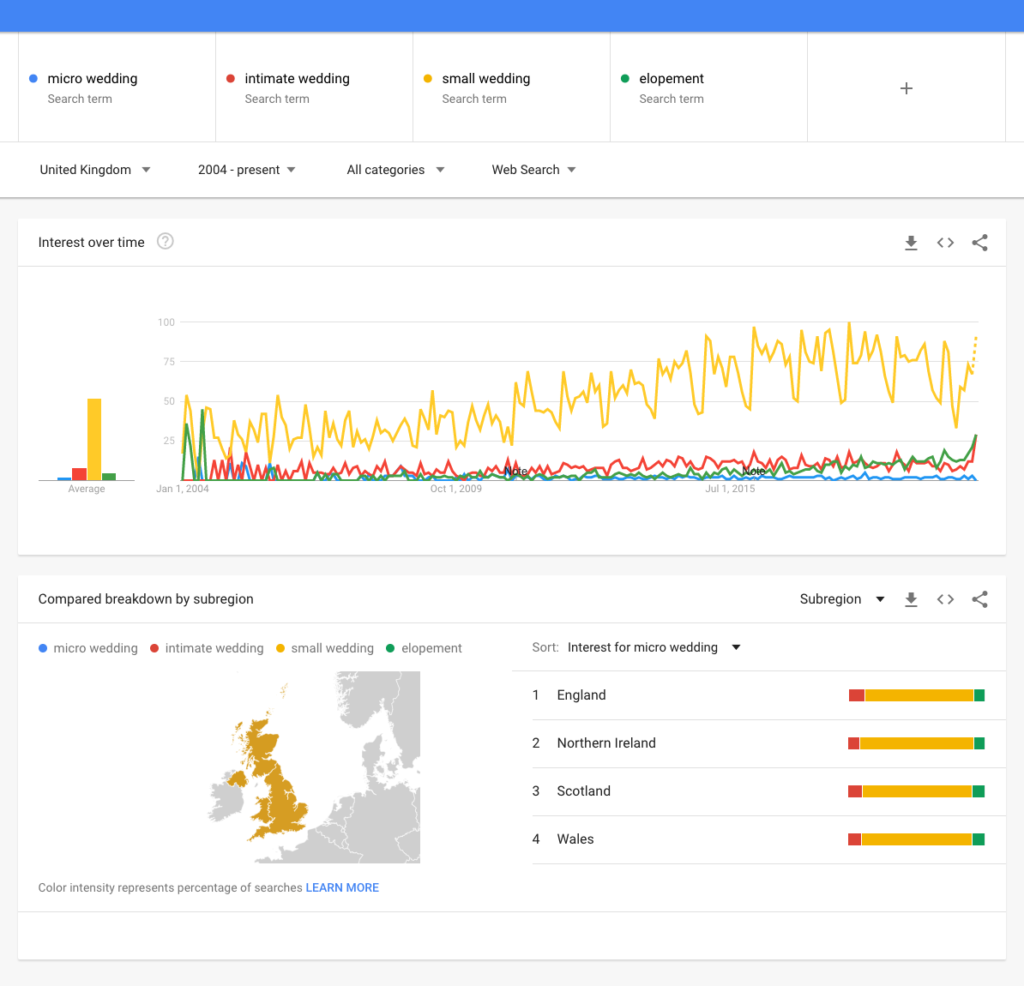 The term 'micro wedding' does not seem popular yet, and there's no noticeable growth with that term in the UK. All other terms showed an increase in April 2020 though. Here's the last 12 months: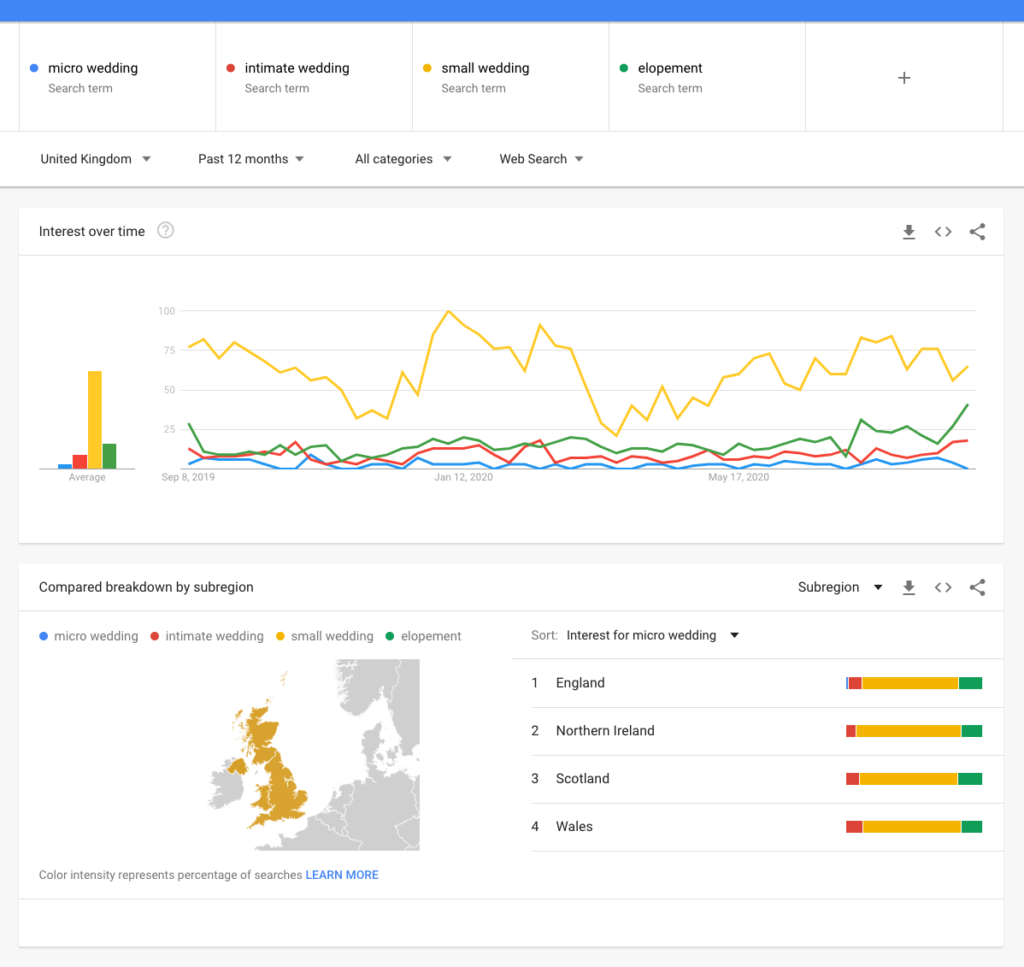 We can see that the term 'micro wedding' is being searched for in England, but not Scotland. The most popular term in all four countries is still 'small wedding', but the growth in 'intimate wedding' should not be ignored.
I'm based in Scotland, so wanted to look at the data just for Scotland. Wherever you are in the world, it will be worth looking in closer detail to your specific region. Trends can vary between countries and cultures. When identifying industry trends, it's a good idea to look at the micro, local level as well as globally and at larger and influential markets like the USA.
Scottish Wedding Trends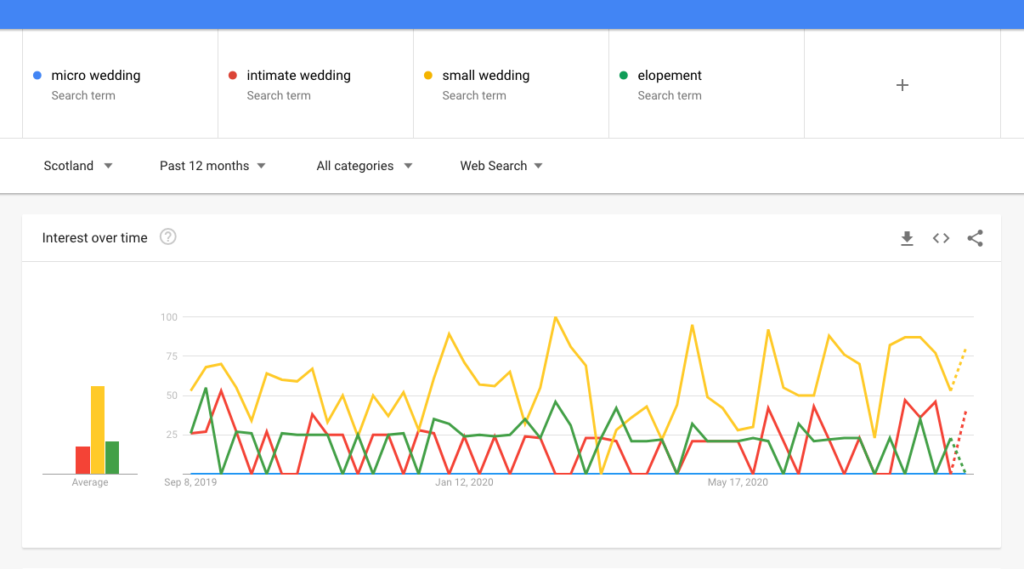 We can see that in Scotland, the growth areas are in 'intimate weddings', 'small weddings' have remained the same and that the micro wedding term is not currently searched for.
Wedding trends are influenced by larger markets like the USA though, so part of our research should look at articles used within wedding industry publications that have a global audience, in addition to press articles both locally and globally.
Take time to look at the terminology used; these phrases will start being searched for more if they're normalised within industry publications and press.
Wedding Blogs: Wedding Trend Coverage
Here are a selection of articles that discuss the impact of recent events and look at what this means for the industry in future:
Guides for brides: Will my wedding be affected by coronavirus?
Hitched: 21 of the Biggest Wedding Trends for 2021. (No. 16 is micro weddings)
Love my Dress has a selection of articles about the impact on the wedding industry.
Press Wedding Trend Coverage
Huffington Post wedding guidelines
Hello Magazine: Has your wedding been cancelled by coronavirus? Here's what 2021 will look like.
Stylist: Wedding trends 2021: micro weddings are set to be big after coronavirus