The Amazon Affiliate Program can be a good option to monetize pages on your website. It's simple to join up, and with Amazon being so popular, and with so many products that you could link to, the options around content are flexible enough to be able to accommodate lots of different niches.
A Word of Warning
It's very easy to be banned from the Amazon Affiliate Program for violating the program terms of service. There are quite a few important things that you'll need to comply with. Before you get started, please take time to read the t's and c's to ensure your website income plan is not over before it begins.
Check out this blog to learn a bit more about common mistakes and how you can avoid them: https://marketever.com/mistakes-get-banned-amazon-affiliate/
Any suggestions I give in this article follow best practice and are in accordance with Amazon's Policies.
Now that we have that disclaimer out of the way, how do you make money with Amazon?
How Photographers can Make Money with the Amazon Associates Program
Here's a basic summary of this project:
Create a series of articles for your clients, centred around 'buyer intent' keywords. Plan to create at least a dozen articles.
Your articles should target a mix of high volume and low volume long-tail keywords.
Distribute these articles consistently across all social media platforms.
Share these articles with clients or prospective clients via your email list.
Team up with others in your industry to share each other's articles
Is this Really Worth the Hassle?
Look, I know you're a photographer or wedding industry professional, and your website mainly contains blogs about weddings, but since we're all stuck indoors, we may as well do something productive, right?
When creating these articles, I want you to think about all the expertise and skill you've developed in the years you have been a self-employed professional.
That knowledge and expertise can be shared with others… whether you are giving advice about wedding accessories, or the difference between flowers, or stationery, or cameras, sharing your expertise on your website will not only build confidence and trust from your clients but it will not date.
When we're the other side of this Apocalyptic virus hell, those articles will keep working for you, and continue to provide useful information for others. So really, you have nothing to lose.
Let's Talk Numbers $£
With the Amazon Affiliate Program, you need to hit £25 per month before you get a payout.
You'll also need to have traffic on your pages and clicking the Amazon affiliate links, or you could be removed from the program, so please don't start if you don't have web traffic.
If your traffic is really low: still create and market the articles knowing that you could monetize them at a later date.
I first started testing out Amazon Affiliate income on my wedding photography site back in 2018. I had a blog post that I was getting a good amount of traffic to (created Autumn/Fall 2017) and wanted to test out monetization with a view to using this to cover some of my business costs. The article has been generating clicks and Amazon Affiliate income for over a year… but, because I have only monetized the one article so far (I'd intended to monetize more, and then life got in the way), it's not been earning enough to be able to get a payout of any cash from. I have also not really marketed the article as I've recently taken a year out from my wedding photography business. It's not something I'd been intending to market any time soon.
Despite this article being neglected and not actively marketed, it still generates clicks and cash. It ranks well due to being well optimised for organic traffic on Google. It's generated £51.47 of income so far this year without any effort or marketing from me. I won't get paid anything until I'm over the £25 pcm threshold though, but hopefully, this will give you some insight into what can be achieved without much effort.
Here's a screenshot from my Amazon Affiliate Program account: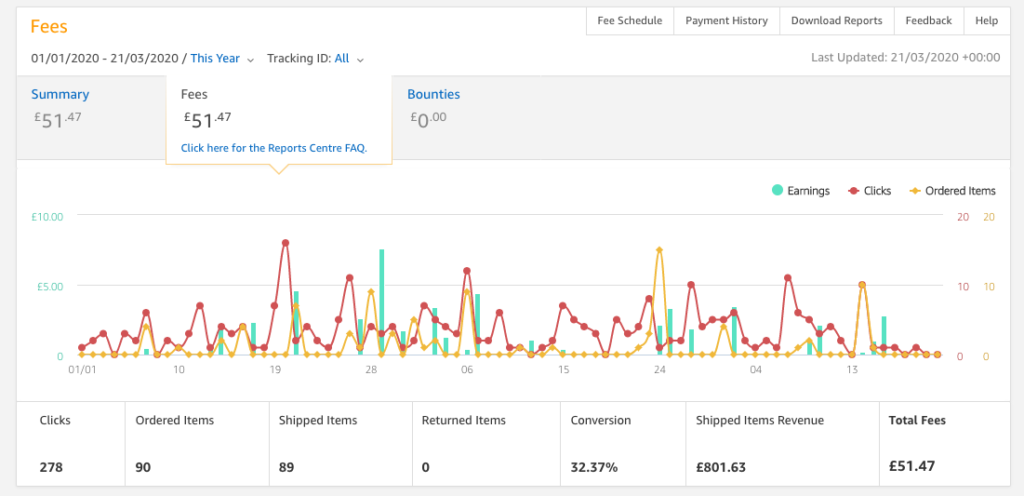 This is why I recommend creating at least a dozen articles as a starting point. This means you will be targeting a higher volume of traffic and can regularly share your articles on social media without it feeling repetitive.
Here's a screenshot showing Google Search Console data for this page for the last 12 months:
Please excuse the fact it is split into 2 screenshots. For some inexplicable reason, my web company removed the www in July so the data is split.
How much traffic did I get in the period to match the Amazon Affiliate Program data?
Only 559 clicks from Organic traffic.
I'd typically be sharing Google analytics figures in a post like this – but as I have not marketed this via social media, it's really only organic traffic via Google that is generating those visitors. I will, of course, be changing my approach to this from next week.
It can be a little tricky to work out exactly how much you could earn, as different genres attract different commission levels.
Earning Example: Books
Books attract a commission of 5%.
If we assume the average cost of a book is £10, then we'd earn 50p for every book sale.
To earn £50 per month from book sales, we'd need to be selling at least 100 books per month through our affiliate links.
The conversion rate of my income shown above is 32%.
Let's assume a lower conversion rate of 25% – That would mean you'd need at least 400 visitors on your blog post each month.
The key to a higher conversion rate is recommending products in a very specific niche, and optimising the content around buyer intent keywords in that niche. I did not do this initially in the post I monetized on my site, as my initial intention for the post was to help provide information and advice – but regardless of this, it still converts pretty well.
It will be important to have a post that is well optimised so that it can perform well in Google search. It can take a few months for a post to rank well, so the performance in terms of generating income initially is going to be down to how hard you promote this across social media and to your clients via your newsletter.
Amazon Affiliate Program Summary
I see the Amazon Affiliate Program as being a great option to help photographers and wedding industry professionals generate a bit of extra cash from their websites during this challenging time we're facing due to the Coronavirus.
Our websites have a range of purposes, and one of the main purposes is displaying a portfolio of our work, so I don't think our industry is one where we could be generating really high revenue from this. Maybe I'm wrong on this, but I do feel there should be a balance of articles, and that these 'money' articles should make up a percentage of the overall website and not dominate the content.
This is why this post is not the typical 'Earn 5 figures of passive income' you may see when Googling this program.
But – I do think it should be fairly easy to generate some extra £$ per month, and in the current climate, any extra cash is going to help keep our businesses afloat.